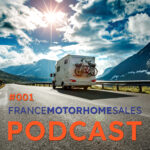 On this episode Sally talks to author Martin Dorey about his new book, Take the Slow Road: France – Inspirational Journeys Round France by Camper Van and Motorhome.
Transcript
---
Martin: Hi Sally, how are you doing?
Sally: Hello how are you? Am good thank you very much.
Martin: Thanks, am alright thank you. I've been working today and I was trying to book campsites and it's a bit of a nightmare because it's taken ages, because everything is really busy. So uhm…, yeah something like that.
Sally: Uhm…well you mean, the camp sites are all booked up?
Martin: Yeah! it's really busy here in the UK for this week admittedly, because I never usually book anything but I'm realizing that I should be do that such sort of stuff now because we have to play by different rules so uhm…, this came to be quite difficult, but its fine I mean I got a places to stay it's just uhm…, it's just I never expected it to be like that.
Sally: But don't they really have Aire de Services like they do over here in France, you know where you just pull up and that's it you're done, it just doesn't really happen in the UK does it?
Martin: There's a movement called CAMPRA which is "Campaign for Real Aires" in the UK and they're promoting Aires in the UK, and they're writing to councils and stuff. But there's loads of resistance in the UK. I know the Highland council in Scotland are starting to open up or asking people for land for Aires so they're getting it, but it's just so slow, and basically all the tourist organizations are run by organizations that are being paid for by campsites, and so when campsite goes ohh… no it's a threat to our business, uhm you know we can't have people stay on your Aires or your town then they won't on our campsite, you stay on a mix of both that is so…
Sally: Yeah, I bet also like not even the FrancePassion.com, I think there is something similar to the France Passion in the UK but it's not… generally speaking it not for most farmers that you can stay. The other one is Park4night.com. I spoke to the guy who runs that, there's loads of farmers that will go "yeah if it's a motorhome you can spend the night there it's no problem".
Martin: Yeah, It's just weird we got a really weird attitude the UK to towards tourists and I think, uhm…, the BritStop stuff which is based on France Passion anyway is brilliant, I know Steve who runs it and its really good I've used it loads, you know and its really handy but all am saying is kind of you know you need to use a mix of both anyway because you can't get shower on a Britt stop or Passion site offering, and uhm yeah its difficult its behind the times quite here in the UK. Are you at Houtin?
Sally: I am in Hourtin Port, I'm at the Western Village do you know that?
Martin: I know Hourtin Port I've stayed in Hourtin quite a lot I been in Golden site the one that's really expensive in uh Hourtin Plage?.
Sally: Cote d'Argent
Martin: Yeah that's the one, yeah
Sally: Yeah
Martin: Cote de How much?
Sally: [laughs] last weekend it looked like a ghost town and it was dead like it was so creepy weird but this Sunday it was busy and actually I wanted to ask you, I went body boarding for the first time ever and I know you're a surfer, everybody is walking around in wet suits uhm it's like why? The sea is ok. Why do they wear wet suits when they're surf boarding?
Martin: uhm… probably because they having to stay out for a couple hours, I mean in France. I would surf in like wet suit vest just to keep me warm, uhm because if you… you know if you in for a couple hours in the water in France you still get cold, they don't really need to I would say, but that's a little bit why I mean we wear them in the UK all the time because its just too cold to stay in the water.
Sally: the reason why I asked is because I was doing the body boarding and as you're coming in onto the beach, my knees they're a mess with the pebbles and the gravel na I thought, I bet thats why they wearing they're wet suits.
Martin: yeah it's just cold and I tell you on the beach, uhm I can't remember what the beach is like at Hourin but I remember it being really good, I imagine that's quite a steep bank is in there and then for a high you jump off from the sand.
Sally: yeah its lovely sandy beach
Martin: Oh God, its gorgeous though.
Sally: well tomorrow am up off to La Rive which is near Biscarosse
Martin: that's one of the best Aires I had stayed I was at Biscarosse actually next to the municipal campsite that's lovely.
Sally: Oh see! Anyway I've got loads questions so yeah I absolutely loved your book my other half bought that book he said I saw this and I thought of you because am like into more like there is really no tomorrow and I saw you had already published it last month, but his like ohh this is so good because I've worked in but in the past selling motorhomes and hiring out motorhomes and people always want to know where to go, Where do I go? What do I do? That's their first question so to have an itinerary book to say…read this! [laughs] go buy this before you come uhm that's really really good so I thank you very much I really enjoyed it.
Martin: thank you, yeah it was good I mean it sort of came about because back then I wrote an article for Coast Magazine uhm in fact I actually no it was a book I wrote in 2012 which was a follow on to my first book and in that I added in a bunch of coastal drives and it kind of set me off thinking, ohh… hang on we can do with this so and I was so desperate to find another angle to do my book because I didn't want to do food again, and I didn't want to just write a book about motorhomes because I've kind of done that, so I went off to Scotland in a borrowed auto sleeper and when I got to the island and then started writing up there and took it to my agent and the publishers actually loved it, its been really amazing I mean it sold God knows how many, I think some there were was some figures came through the other day it's like a 120,000 copies out of all of the series
Sally: aww wow!
Martin: So and that's Scotland, Ireland and Wales and now France, it's pretty exciting I mean it's basically just going on holiday,
Sally: [laughs]
Martin: You know I've had the chance to go to places that I've always wanted to go to and actually back to France though I would get on the ferry to Roscoff and drive through Brittany and go all the way down to west coast and end up usually in Northern Spain and actually I couldn't just do that with this book I obviously had to go in land and to the Alps and you know and learning to snow board and something I have always wanted to do and going to the Normandy Beaches and then going on to the Western Front and I've been to Alps in the summer, and it was just a great opportunity to go and see stuff that I wouldn't normally go and see, uhm just because of surfing. With surfing you realize how much it holds you back you know because you go to places like Hourtin and go 'right I am here for two weeks I'm not moving I'm going to surf everyday. The kids are in the pool we go out to the restaurant place.'You know and we maybe go port to go on a on a pedalo or something.
Sally: So [Giggles] when you wrote itineraries for the other part of the country you were familiar with, how do you come up with an itinerary for an unknown territory?
Martin: Its sort of just reading really. I mean I usually based them on sort of ideas. It's kind of like the Western Front as an idea. I wanted go out to the Ardech so obviously the Ardech as part of that, and but then that became part of a larger thing, because obviously that's a tiny little stretch of water but actually had to be incorporated into something else that ended up being… ohh God I think it was the Tarn Gorge was included in that as well, and then I went to find the Lavender route and then I went to drift along Med I mean the best one was when we were in the Basque Region and we…I was looking around an old map I think I wrote it in the book, uhm its about the Route des Thermes and I didn't realize anything about the Route des Cols which was obviously the Tour de France route that goes over Tourmelet and all the big cols from the Atlantic to the Med so we followed that and we followed this old map which and it took us to all the thermal baths in the Pyrenees…
Sally: ohh that's a good one
Martin: which is God… I mean it was amazing you know and this amazing experiences of going through these high passes coming down to these beautiful valleys and then going into hot spring it was kind of like…it was just brilliant, so yeah they kind of come about by accident sometimes or we will just go ohh look there's the Alsace wine route you should follow that, and we should go and look through Champagne and it's kind of based on clichés but also based on stuff that we think is interesting to us uhm…
Sally: so do you plan it before you leave home, do you sit in front of a map and plan it, or do you truck up and just have like pin points you know, like we'll go there and we want to go there, we want to go there let's link them all up and see what happens?
Martin: uhm usually we got plans so we will work it out, I mean the Pyrenees one we didn't have a plan for, but we wanted to go the Pyrenees so it was kind of like…I wasn't sure how to get to the Pyrenees I've been to Gavernie before but I've not so followed that route so I was actually finding that was like…ohh that's easy that gives us the answer
Sally: yeah
Martin: uhm…so you know….so you see it's not that easy. If you go to France and you coming down to the Meds there's no point in me driving on the motorway all the way to the south of France doing a twiddle about in the south of France then driving back on the motorway, so we kind of did them in loops, where we went to Isle de Re with my kids.We then ended up going back up the Loire from Nantes, so that we can actually make a circle of it so we ended up in Orleans I think it was, and then went through Paris so actually we were always making some sort of loops so that we can do something on every day, it was difficult trying to organize it because you really got certain amount of time and you kind of, I think we spent 3 to 4 months in France last year, so I added that to all the stop off I've done before and actually that's how we got it done just by being pretty disciplined about how we do it, so it's not easy but it's not a rubbish job by any means you know it could be a little worse [laughs]
Sally: I think there might be a few people that might be a little jealous of you yeah definitely, but is that why you call it slow road because a lot of people they're obsessed with getting on the motorway and getting from A to B but to me that's not motorhoming and especially not motorhoming here in France
Martin: uhm… yeah I would take the slow road because it's kind of the idea that you don't go quickly that you can't go quickly I mean I started off in a type 2 VW [Volkswagen] and you can't go quickly so you have to start slow down and actually the whole point of going on a motorhome or a campervan holiday or whatever is to sort of stop, go buy some cheese you know stop by a river somewhere have some lunch you know have a snooze and then just carry on that sort thing so, and that's what it's all about. So the doing that first section which is about what happened when we were there is as important as the driving is so it's kind of like the idea of doing the best driving roads that top gear would do but do it in a relaxed way
Sally: That's motorhoming for you. Definitely in France I don't know if it's the same in other countries but in France it's like every 10 miles there's a town that specializes in something and you know whether its copper pots or a particular cheese or something and they're so proud of it and you have to stop because there will be a market or there will be a festival. And if you're on the motorway all the time and you just flying passed all these places and you're missing France
Martin: yeah totally, I mean it's totally souless isn't it just getting on the autoroute and I mean I understand why you know uhm and its but you are right we ended up in a town ohh God where was it? I've got an amazing oyster shucker from and it's a town that specializes in knives and it wasn't even like a kind of, it wasn't even on the map and it was just these beautiful knives and I would have wanted some of the specialist knife makers from the south on there can't even remember what they're called and I wanted one of their knives but this place was more beautiful and it had its own little motif and it's kind again it's not even like one of the specialized villages or anything it's just a place that's peaceful
Sally: that's nice, ahh what's the deal breaker for you, now you've done a lot of motorhome-ing what is that "I must have this in my motorhome" otherwise am not interested?
Martin: uhm… that's quite interesting [laughs] I don't know actually probably chocks or wedges rather
Sally: Really!
Martin: uhm…to get me a good night sleep yeah I mean there's I mean I don't you know if it… I mean I don't mind going without a shower I'm in a shower's good, you know, but you can do without one if you need to
Sally: yeah
Martin: just being comfortable and being able to cook I suppose uhm is more important than anything else because it doesn't matter how many showers and toilets you got or Sat Navs or you know Spotify connectivity if you can't sleep there's not point [laughs] you know you go to some camp sites and you like that you'll wake up in the morning with a pile by the side of your bed you know
Sally: [laughs]
Martin: You know, I came from quite an old school way of doing it so I came from surfing you know which is like all beat up VW's [Volkswagens], sleeping in cars you know putting tents up on cliff tops when you not supposed to and all that sort of stuff so actually sleeping in, now am I got… I picked up van on Friday you know and it's beautiful it's amazing and I just think wow this is so different from how I started so I would never take it for granted and say ohh I got this I must simply have that you know you get by,
What are you in at the moment? You're not in a van are you?
Sally: no am in mobile home unit. It's kind of like a caravan you know it's got wheels on things but it's not a motorhome. It's not going anywhere not deliberately anyway
Martin: alright ok
Sally: but it's sort of like caravany, you know there's a little bit there's a lot more space in here than there is in a motorhome let's be honest but you still there [laughs] you still camping [laughs] uhm…
Martin: still feels like camping yeah
Sally: it does yeah yeah it does, uhm…so what country are you going to hit next?
Martin: I've got Spain and Portugal; France was part of the tour as well so I'll do France first and then do Spain and Portugal afterwards
Sally: right
Martin: but I should have been in Spain this winter
Sally: aww…
Martin: basically though the winter has just gone and finishing it up and delivering it in kind of I guess September October this year
Sally: mmm…
Martin: with us being delay by a year you know there's loads of little places where people don't go that are fantastic it's just finding them.
Sally: well a friend of mine a motorhomer who is an American she bought a motorhome over here when she comes over and she does like ahh 3 or 4 weeks and then she goes back to America; earns a bit more money and then she comes back over and does another 3 or 4 weeks, uhm…she got a map of France which was the towns de fleurie towns. You know where they have like 1 flower or 2 flowers and she sorted her itinerary by going round the most picturesque towns because there was a map of them of them of France.
Martin: yeah I mean France is quite good because they have ahh…and then they have the exceptional villages and all that kind of stuff. I can't quite remember what they're called, but they're all classified things in a really nice way so actually I guess you would be able to and you would be really good talking about knives you can do a knife makers tour or you know or I don't know anything really couldn't you goodness me, I'm trying to think of the great restaurants that are on the Isle de Re right you know that first [laughs]
Sally: Yes! Do the Michelin tour going to the Michelin restaurants.
Martin: for that exactly yeah but…
Sally: but that's if you've got the cash
Martin: Yes, I'm not sure I've quite got the budget for that.
Sally: [laughs] now to save up for that [laughs]
Martin: there's all sorts of possibilities so it's all good
Sally: so it sounds to me like this take with the slow road series is going to expand to like 30 books it's like wooo… then do like Michael Palin where should I go now you know [laughs] where can I go?
Martin: [laughs] I know I know I think it's going to go on as long as I want them to go on
Sally: there is a lot of US customers in the basically the motorhome industries at the moment uhh…there is a bit of a back log or there was a bit of a back log on the manufacturing because the factories closed down because of covid and then since then there has been a real problem with the uhm…the chips that are meant for the engines, and so that's been, there's a huge supply and demand issue and somebody buying a motorhome or ordering a motorhome in sort of like February time, it wasn't going to be available especially if they wanted an automatic gearbox until Christmas, it was almost, it was 10 month way and because of that it made the second hand motorhome market shoot up in price because people wanted a motorhome you know they didn't want to wait uhh 12 months for it so they was looking for the uhm…the second hand market so that's all gone up, but I think a lot of people now they can see the light at the end of the tunnel so a lot of customers in America can might actually love your book because they're, not coming out this year but are planning on coming out next year you know it's nice to have book to have to read about it and do the research that's half the fun of the trip isn't it?
Martin: yeah its uhm…I mean I guess the thing is that it's so…the book is kind of half about dreaming and half about doing, so actually the dreamers will get ahold of it and then next year the doers will get hold of it because its great, I've had a great time doing it and to me it's kind of like well if like other people get to read it and get to enjoy it like I have then brilliant you know uhm… yeah
Sally: the photography is very good you know who did the photography?
Martin: I did most of it and then if I'm in it, it means that Lizzy took it
Sally: was it a special camera or was it that on your phone?
Martin: ohh no… it's with the camera I did a degree years ago I did a degree in film so I have always been really in to photography so I've always taken all the pictures in all my book uhm…and am really interested in it so I really enjoy taking the pictures, so…uhm…yeah I mean that's part of it for me it's kind of it's kind of perfect.
Sally: yeah
Martin: going round you know I've always had vans so go around in your van taking pictures and write about it yeah perfect
Sally: [laughing] and get paid for it [laughing]
Martin: yeah exactly, yeah it's very good
Sally: ok so just some quick information about your book then, I saw it for uhh…£20 is that right on your website on your shop?
Martin: yeah
Sally: ok
Martin: You get a signed one, you can get it cheaper from amazon I think and in the book sellers its slightly cheaper but the proper price is £20
Sally: alright then well, have a good evening and thank you very much for talking to me
Martin: alright ok, thanks a lot
Sally: bye!!!
Martin: alright take care!!!