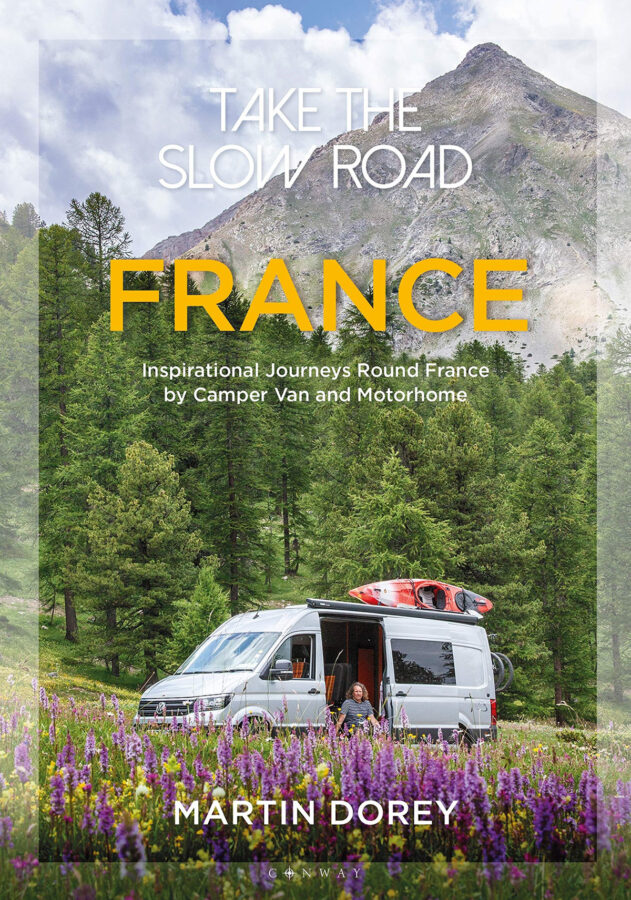 Take the Slow Road: France – Inspirational Journeys Round France by Camper Van and Motorhome
Author Martin Dorey.
@campervanliving www.MartinDorey.com
Price £20.00 paperback version / kindle version also available
Amazon EAN/UPC no 9781844865918
First Published May 2021
Category: Travel and Itineraries FRANCE
I've been looking for a book like this for a long time to recommend to everyone as the first question for many new motorhomers that realise their dream of possessing their own vehicle is 'Where should we go?' The freedom of owning a motorhome or campervan sometimes brings with it an overwhelming choice that many of us don't know where to start. Quite simply, we're not used to travelling without any other purpose other than to enjoy ourselves and discover, often by chance, some of the most spectacular sights on our planet.
This book is a great starting point. If you're sitting at home right now and dreaming of maybe next year starting your bucket list travels in Europe, you really do need to have this book to hand.
Martin encourages you to go slowly and take your time. There is absolutely no benefit in rushing from point A to point B on the motorway as it's the journey that is the purpose of these trips. Especially in France, where nearly every ten miles or so you'll come across a completely charming town or village with its own character, market, festival, speciality cheese or beverage proudly displayed and available to experience.
This book, in a series of Slow Road books (series includes England & Wales, Scotland and Ireland), offers you 25 itineraries that you can plan either as separate journeys or that you can link up and tour the country following all 25. The first section a lot of practical and useful information. He covers probably the top 20 questions of all campervan owners starting out in France, he's then added in information that you didn't even know you didn't know. The importance of budgie smugglers for one is a great example.
Just as an aside in fact, I had a discussion about this very subject with a campsite owner with a swimming pool and asked the reason behind the ban on swimming pool shorts. It turns out it's a hygiene rule. Basically, it's highly unlikely that anyone will wander around town, walk down to the beach or mooch around the market in just their very tight speedos as they would a pair of swimming shorts and so, the tight swimming trunks are usually only worn in the pool and therefore reduce the risk of sand, dirt and anything else entering the water. So there you go….embrace the budgie smugglers!
There's practical tips and information about driving, camping, and shopping in France plus a recommended kit list of what to take with you, he also lists 21 highlights about motorhoming in France from places to go and things to do. I recommend the swimming in the Jura as well as also tasting the Champagne, in Champagne.
The second part of Martin's book goes on to the specific itinerary routes (all mapped out in the front and back inside covers). Each route front page starts with an outline sketched map of the route and highlights the towns and sights along the way to give you an idea of where you are going and what you are going to see.
It also has a useful quick search margin giving an outline of the theme or 'Best for' interests of that particular route, followed by where to start, where you finish, the distance in both kilometers and miles, as we all the number of days to allow for the route and the road map pages the route covers.
Martin then gives a personal account of his travels there, painting a vivid picture of what the places are like. I can vouch for this as I've read through the descriptions of some of the places I've visited too and find myself nodding in agreement almost feeling like I must have been there on that day as well.
He ends each route with a list of places to stay from campsites to aires de services along with a brief note about each one so you can select the best place for your needs.
The note about driving in the area is extremely useful, and I nod frequently as his advice here too when he describes the driving in the area and what to be aware of.
Each route chapter is brought to a closure with interesting places to go and visit and useful website links to follow up for more information.
The pages have beautifully integrated photos of the area and places of interest and french scenery making the book a simple delight to sit back and relax to read while dreaming of the possibilities to come.
The book rests happily on my bedside table to give me sweet travel dreams equally as well as in my holdall while I'm travelling to search out new places.
I just wish, Martin, you'll come back soon and write some more routes as France is a big country with still more to offer!
Follow Martin on his blog site MartinDorey.com where he also has a shop and you can buy his book from here: for £20.00.
Its also available from Amazon stores and in kindle version with this UPC / EAN number 9781844865918
About the author – excerpt from Martin's book Take the Slow Road FRANCE.
"Martin Dorey is a writer, surfer and serial camper van owner. In 2011 he presented the BBC2 television programme 'One man and his Campervan'. He is the author of The Camper Van Cookbook (2010), The Camper Van Coast (2021), the bestselling The Camper Van Bible (2016) and the hugely successful Take the Slow Road series, and writes a column for The Caravan and Motorhome Club Magazine.
Martin is also a conservationist and is the found of a movement that aims to inspire beachgoers everywhere to share in his philosophy of 'leaving it nicer' with a two-minute beach clean after every visit to the beach to walk, surf or swim.
Martin has owned and driven a long succession of campervans; he currently drives a Volkswagen Crafter that's usually overloaded with surfboards, kayaks and bikes. Look out for him – driving in the slow lane."
@campervanliving www.martindorey.com