The Kayler-Popper Crew has just arrived in France to start their European adventure and will be guest blogging during their trip. How do you get two large dogs across the Atlantic? Like this!
The number one question we were asked when telling friends and family in the US that we were planning a 2-year journey in France, was "what are you going to do with your dogs?" It was a fair question, but to us, the answer was a no brainer; they were coming with us!
We were under no illusion that bringing our dogs to France would be easy on them; they are "pandemic puppies" who have spent the majority of their time in our presence and we knew we'd have to fly them over in the hold of the plane. In an effort to make it a bit easier we planned a cross country road trip from CA to NYC so that they could have a shorter flight over to Paris.
When departing from JFK in NYC, I was pleasantly surprised by the reception we had. Before attempting to check-in, while we were in a corner of the airport putting together Lefty and Midnight's crates, we were approached by two Air France employees gushing over our doggies and asking to take a pic with them. They then went above and beyond to make our check-in process smooth and ease our anxiety about the dogs (while the dogs were on anti-anxiety meds, I was not!!).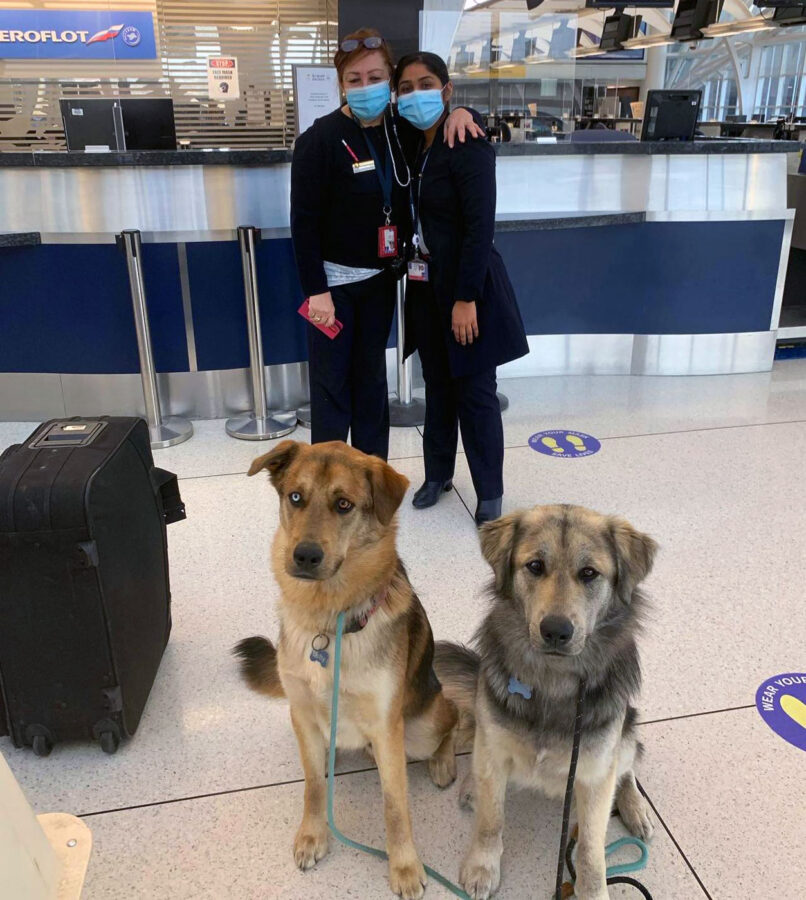 I wish I could say the dogs had an easy-peasy trip and it was no thang. But, of course, once seated on the flight, we could hear our Lefty Lou barking anxiously below 🙁 Over the course of the flight he seemed to calm down as we couldn't hear any barking, but I'm sure he was quite stressed out. (As an aside, I love AirFrance; they are so kind, polite and serve you wine with dinner!)
Upon landing, we made our way through customs anxiously expecting to see our dogs awaiting us in baggage claim. They were not there when we arrived, and I have to say, the delivery of the dogs on the CDG side was frankly HARSH! All of a sudden I saw a crate slide down the ramp with nothing to stop it but the metal bar at the end. I ran to cushion the stop and immediately had to catch the second crate before it ran into the first! Ash was collecting our luggage, but luckily a kind stranger helped me turn the crates, tear the zip ties off and set our confused, disoriented pups free!
Our reunion was not quite what I imagined. Were they happy? Yes! But also very nervous, skittish and confused, as could be expected. To add to the mayhem, shortly after getting them out of the crate, Lefty could hold it in no longer, and pooped right there in baggage claim!
It was clear that the trip was traumatizing and I felt that they didn't want to be far from our sides for the first few days (as evidenced in their choice of position when first acquiring the camping-car). But I am happy to say, that after only 2 weeks, they seem to have fully rebounded and are adjusting quite well to their new home!