Have I mentioned our dogs yet? 😆  Since Midnight and Lefty joined our family they've always had a place in the center of our world, and yet on this new adventure they figure even more prominently into our daily lives as we rarely spend a moment without them.
The only "off-limit" places in Beni are our bed (only accessible by ladder) and the bathroom (they've tried to check it out, but they can't fit inside!). And of course, they are at our side for any outdoor adventures, and often, even when running errands. (they are always up for trips to boulangeries🥐 or, I should say, panaderias🥖, now that we are in Spain).
I've previously mentioned their role as our "ambassadors" in France, helping us meet new people and make new friends. Well, unfortunately, here in Spain, even the best efforts on the part of our doggos sputter out as we mutter our apologies and an embarrassed "no hablo Español," to the friendly dog owners as they try to engage.
Our lack of Spanish doesn't stop Lefty and Midnight from making new (and adorable) friends…but we simply get left out of the equation!
However, our lack of interaction with locals combined with the spectacular beauty that is on offer in Northern Spain has resulted in more outdoor time, more adventures and more appreciation for the comedy and joy that Midnight and Lefty provide as our trusty, daily companions. And Lefty & Midnight – they really are game for anything – hiking, biking, kayaking, rock climbing, hide and seek (you laugh, but we really do play hide & seek with them!).
In some ways they are, of course, spoiled to have these wonderful experiences, but on the whole, I think it's us who are truly spoiled. The joy the dogs exude upon seeing the ocean, chasing a (insert any animal), running through tall grass, finding a "good" stick or digging in the sand is so pure that it can't help but amplify our own sense of joy, wonder and happiness. Here's just a small sample of these doggos living their best lives…and in doing so, bettering ours!
3 miles of cliffside hiking to get to this beach and the joy is REAL!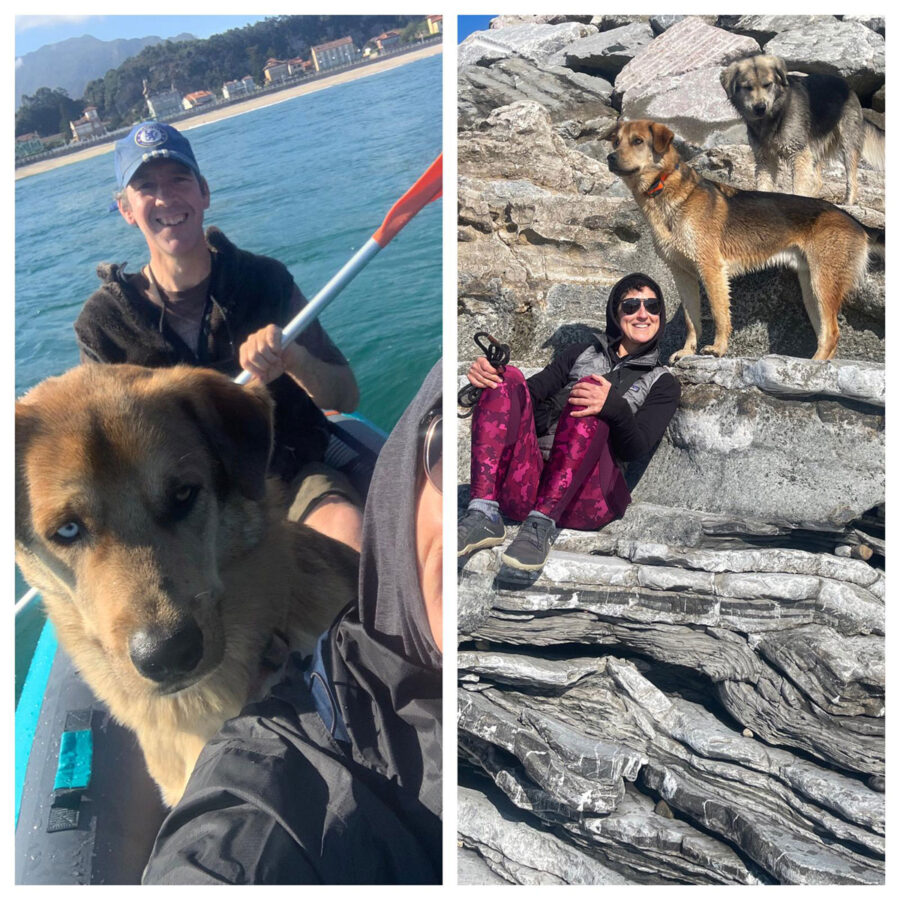 BUT it can't all be all rainbows and butterflies, you say! Oh how right you are my amiga! So what is the real dirt on living full-time in a camping-car with two dogs? Welp, there's lots of it…. DIRT, that is! In fact it's alarming how quickly they can get dirty AND the variety of dirt they can acquire – mud, sand, dead animal smell, tree sap – and in their minds, THE MORE THE MERRIER!
Oh and lest we forget their hair… it's EVERYWHERE! As are they, everywhere, that is! Sleeping in front of the bathroom door when you've got to go! Laying underfoot as you try to prepare dinner in your teeny, tiny kitchen! Sitting in your co-pilot chair (and refusing to budge) as you prepare to disembark from your campsite.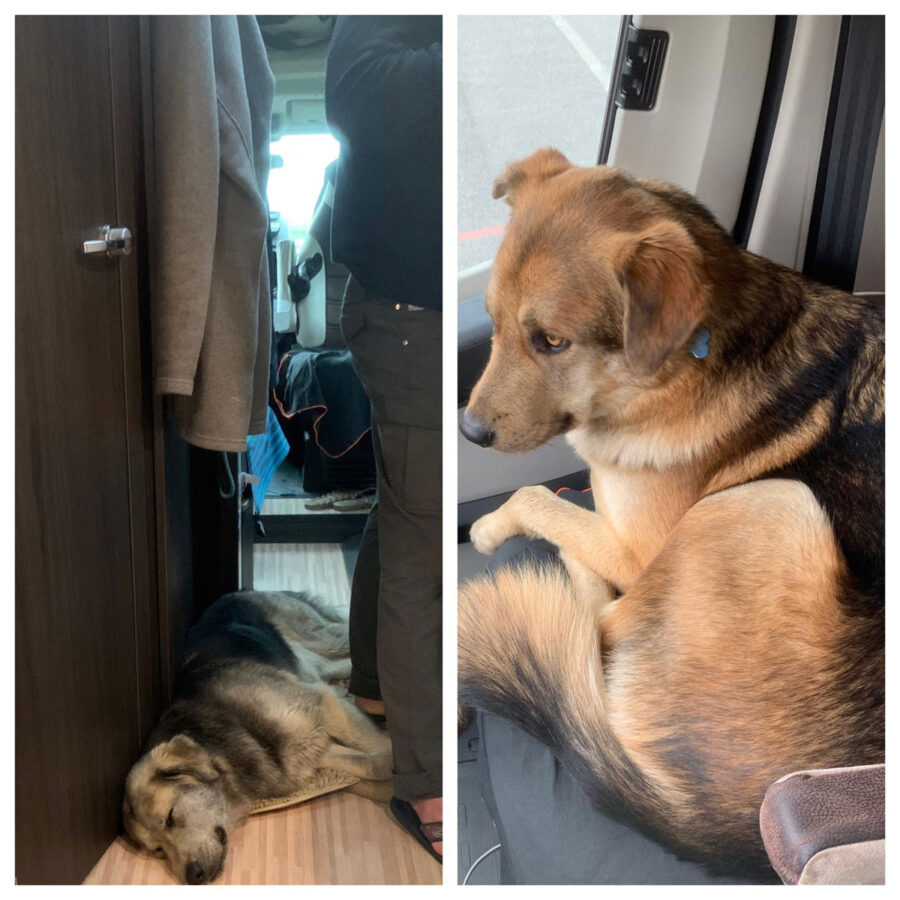 So, given this ridiculously close proximity in which we cohabitate, it's quite obviously a losing proposition to think we can keep Beni clean. ….and yet, I try. Why, you ask? It keeps me sane. It provides structure. And honestly, somehow it makes me happy! I've never been a big cleaner (just ask my mom 🤣 ), but my daily Beni cleaning sessions are more satisfying than I'd like to admit.
Maybe it's the drastic before/after difference (peep the pics!), or the fact that I'm only cleaning a 20 square meter space, but man it puts a smile on my face to sit back and admire my clean(ish) home for a few precious minutes before the dogs come back in and say "Don't worry mom, you can clean again tomorrow, we know how much you love it!"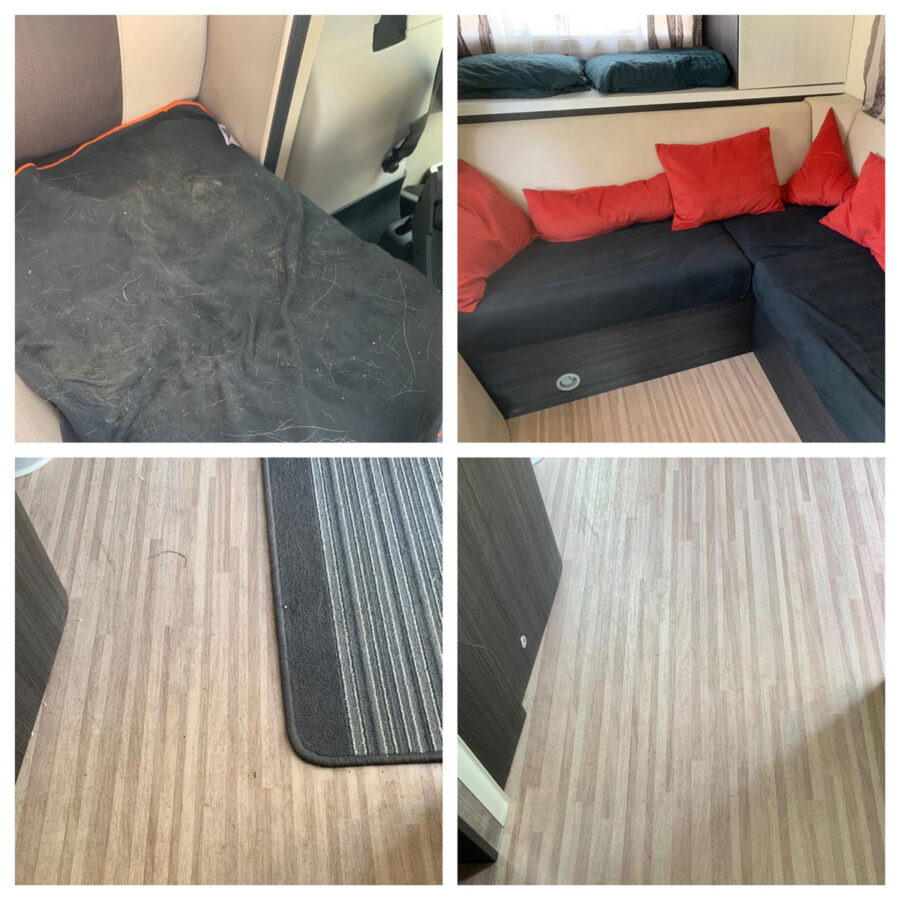 SO tomorrow….we do it all again! Worth it, you ask? You better doggone believe it!