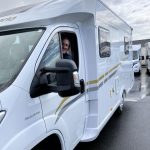 I was looking to purchase a motorhome in Europe given that we spend most of or travelling outside of the UK and the issues that can bring with Brexit etc.
France looked like the ideal location to buy given that it is pretty central. After some research I came across John Mottram who runs France Motorhome Sales, and that turned out to be a great deal of fortune.
From my initial contact with John , he guided and assisted me through the whole process.
It's not particularly complicated but with John's knowledge and expertise it certainly made life a whole lot simpler. As a result I am now the owner of a French registered, taxed MOT'd and insured motorhome.
I can't thank John enough for his knowledge understanding and patience and would highly recommend him to anyone looking or considering to purchase a motorhome in Europe.